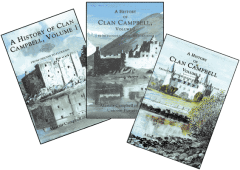 by Alastair Lorne Campbell of Airds, Unicorn Pursuivant
Alastair Lorne Campbell of Airds was the Chief Executive of Clan Campbell, appointed by the Chief of the Clan, Mac Cailein Mor the 12th Duke of Argyll. He was also Unicorn Pursuivant (1986-2008) to the Lord Lyon, King of Arms. In his 8 years as Inveraray Castle Archivist, he was responsible for cataloguing the volumes and artifacts in the Jacob More Library at Inveraray. Since 2008 he has been Islay Herald of Arms Extraordinary in the Court of the Lord Lyon. He was granted unparalleled access to the archives as he wrote this comprehensive history of Clan Campbell.
SPECIAL MEMBER PRICING AVAILABLE. Member's Only Price $99.95 for the 3 volume set.