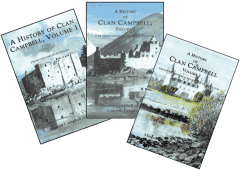 The History of Clan Campbell begins at the earliest dates for which there is written record relating to Campbell history and concludes in the nineteenth century, after which there is substantial published material on the history of Scotland and the participation of the Campbell Chiefs, the Dukes of Argyll. After that period, many members of the Clan Campbell were still prominent in Scottish life, but more as individuals than as part of the Clan.
The work is in three volumes:
Vol. I - Spanning the years from the earliest times to 1513 and the death of the second Earl of Argyll at the Battle of Flodden Field.
Vol. II - Covering the period from 1513 to 1685 and the death of the ninth Earl on the block in Edinburgh following Monmouth's rebellion.
Vol. III - Taking the history from 1685 to the end of the Napoleonic Era in about 1815.
The history itself is more than just a history of Clan Campbell. It is more than just a portrait of the Chiefs of the Clan. It is a mural in which we can all see and share in the life in the western highlands during the period covered by the work.
by Alastair Lorne Campbell of Airds, Unicorn Pursuivant
Alastair Lorne Campbell of Airds was the Chief Executive of Clan Campbell, appointed by the Chief of the Clan, Mac Cailein Mor the 12th Duke of Argyll. He was also Unicorn Pursuivant (1986-2008) to the Lord Lyon, King of Arms. In his 8 years as Inveraray Castle Archivist, he was responsible for cataloguing the volumes and artifacts in the Jacob More Library at Inveraray. Since 2008 he has been Islay Herald of Arms Extraordinary in the Court of the Lord Lyon. He was granted unparalleled access to the archives as he wrote this comprehensive history of Clan Campbell.
SPECIAL MEMBER PRICING AVAILABLE. Member's Only Price $99.95 for the 3 volume set.