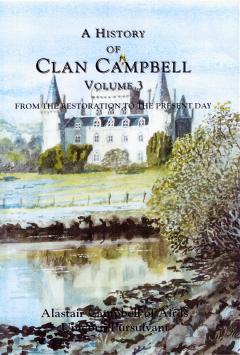 FROM THE RESTORATION TO THE PRESENT DAY
In the third and final volume of Alastair Campbell's acclaimed account of the Campbells the story resumes at a high pace. Successive incidents include the 9th Earl's part in the 1685 Rebellion and his eventual execution; the 10th Earl's raising to a Dukedom; the Massacre of Glencoe; the 2nd Duke's quashing of the 1715 Jacobite Rebellion at Sheriffmuir; the notable part played by the Clan in the 1745 Rebellion and in its aftermath the sorry tale of the Appin Murder.
Following the defeat of the Jacobite armies at Culloden in 1746 the old Clan system effectively came to an end. Succeeding chapters describe the break-up of the old order and the diaspora across the world together with details of the chiefly family and an account of the part played by the Clan in the British Army from its founding down to the war in Iraq. It is extraordinary to see how firmly the Campbells have left their imprint, how widely and in what a variety of ways.
The book is illustrated with maps expertly drawn by Kenneth Campbell and twenty pages of plates, four of them in colour. It includes appendices covering the Clan's heraldic history and the titles it has gained over the centuries, and ends with a full bibliography and comprehensive index.
Alastair Campbell's trilogy ranges over the histories of the West Highlands, Scotland, and the Scots overseas, in all of which Clan Campbell played a notable and often decisive part. His writing has combined depth and readability in a well-paced narrative. In recording the history of one remarkable family of people, he has made a significant contribution to the history of Scotland as a whole.
by Alastair Lorne Campbell of Airds, Unicorn Pursuivant
Alastair Lorne Campbell of Airds was the Chief Executive of Clan Campbell, appointed by the Chief of the Clan, Mac Cailein Mor the 12th Duke of Argyll.  He was also Unicorn Pursuivant (1986-2008) to the Lord Lyon, King of Arms.  In his 8 years as Inveraray Castle Archivist, he was responsible for cataloguing the volumes and artifacts in the Jacob More Library at Inveraray. Since 2008 he has been Islay Herald of Arms Extraordinary in the Court of the Lord Lyon.  He was granted unparalleled access to the archives as he wrote this comprehensive history of Clan Campbell.