Vice President, Clan Campbell Education Foundation
Past CCSNA Board of Trustees, Past Texas Commissioner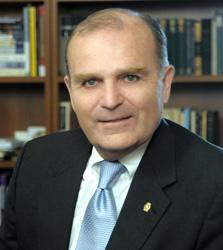 Col. James Campbell "JimC" Quick, Ph.D., FAPA, FLLC is a Distinguished University Professor & Professor Emeritus at the University of Texas at Arlington and is Professor, Alliance Manchester Business School, The University of Manchester, England. Dr. Quick is Director Emeritus, Science Advisory Board, Leadership Worth Following, Irving Texas. Dr. Quick formerly held the positions of John and Judy Goolsby Distinguished Professor and the John and Judy Goolsby-Jacqualyn A. Fouse Endowed Chair in the Goolsby Leadership Academy at UTA.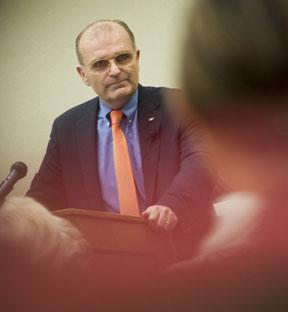 JimC has been an active member of the Clan Campbell Society (North America) since 1982. He has served in various positions and on the Board of Trustees for the CCSNA, and on the Board of Directors for the Clan Campbell Education Foundation. He is currently the Vice President of the Clan Campbell Education Foundation. 
Dr. Quick earned an A.B. with Honors from Colgate University, where he was a George Cobb Fellow and a Harvard Business School Association intern. He earned an M.B.A. and Ph.D. at the University of Houston, with postdoctoral study in behavioral medicine (Harvard Medical School) and combat stress (UT Health Science Center at San Antonio).
Commissioned a Second Lieutenant in the United State Air Force through AFROTC, Colonel Quick, Ph.D. retired as the Senior Reserve Officer to the Commander, San Antonio Air Logistics Center, Kelly Air Force Base, Texas on 1 July 2000 after 27 years of active commissioned service and receiving The Legion of Merit by the United States Air Force. He served on the DOD's Defense Health Board (2008-2011) for his expertise in prevention and psychological health and well-being.
Dr. Quick is a Fellow of:
        the Lancaster Leadership Center, Lancaster University Management School, UK,
        the American Psychological Association (APA),
        the Society for Industrial and Organizational Psychology (SIOP),
        the Society of Consulting Psychology (Division 13), and
        the Association for Psychological Science.
Dr. Quick's awards include:
       2016 Regents' Outstanding Teaching Award
       2016 Professor of the Year Medallion, Beta Gamma Sigma
       2013-2014 Distinguished Professional Publication Award
       2013 Academy of Distinguished Scholars
       2013 Lockheed Martin Aero Award
       2011 Piper Professors Award from UT Arlington
       2011 Distinguished Professional Publication Award
       2010-2011 Faculty Development Leave
       2009 University Award for Distinguished Record of Research
       2008 Academy of Distinguished Teachers
       2007-2008 Honors College Outstanding Faculty Award
       2002 Harry and Miriam Levinson Award from APF/APA Division 13
       2001 Presidential Citation from American Psychological Association
       The Legion of Merit from the United States Air Force
       Who's Who in the World (7th edition)
Dr. Quick applied the Goolsby Leadership Model in two collaborative research programs. The first was with the American Orthopedic Association and the School of Medicine at the University of Virginia, resulting in leadership publications in the Journal of Bone & Joint Surgery. The second project with West Point – United States Military Academy and the Center for Character-based Leadership at Kansas State University is currently ongoing with initial publications in Leadership Quarterly. His coauthored article with John Goolsby and Dave Mack on positive ethics and good outcomes was recognized with a College of Business 2011 Distinguished Professional Contribution Award.
Dr. Quick is an international author and editor with over 130 books, book chapters, journal articles, clinical monographs, and encyclopedia entries in 10 languages. 
JimC and his wife, the former Sheri Grimes Schember, are members of the Presidents' Club of Colgate University, the Ashbel Smith Circle and Chancellor's Council of The University of Texas System, the Carlisle Society and 1895 Society at UT Arlington. Jim is past president of the Arlington Great Southwest Rotary Club, where he and Sheri are Paul Harris Fellows, and a Ruling Elder at First Presbyterian Church in Arlington.
JimC and Sheri have also given back to The University of Texas system by establishing the Sheri Schember Quick and James Campbell Quick Chancellor's Excellence Endowment.